We can offer a mid terraced/row house on three levels plus basement, 120 sqm, fully furnished, 3 bedrooms, large open attic, lounge / dining, kitchen, downstairs toilet, upstairs bathroom, two showers, small garden with two terraces, and garage. The house has central heating, Internet access (DSL), a fully equipped kitchen, with dishwasher and a laundry room in the basement. The quiet and safe setting makes it ideal for a family or couple. The front of the house looks out onto a private walk-way, the garden ends in a park with lovely views. There are two clean and safe playgrounds in the park (ca. 100 m away).
The house is located in Martinsried, a small community bordering the southwest of Munich, close to Graefelfing and Planegg. Martinsried is one of Munichs 3 major research centers, which are located: in Garching (north of Munich), in the city (parts of LMU) and in Martinsried/Grosshadern. By excellent means of public transport (10 min bus/bicycle ride to U-Bahn (subway)) you can even reach Garching in 60 min. Munich downtown/Marienplatz takes only 25 min. alltogether (by car 20 min., however the old city is a pedestrian zone). Schwabing is 30 min. by subway.
Research units such as Max-Planck Institute for Bio Chemistry, Ludwig Maximilian University and IZB (International Centre for Bio Chemistry) are a ten minutes walk from the house. Grosshadern Hospital 20 min. walk.
Excellent schools and nurseries, various shopping facilities, doctors, restaurants are also in walking distance.
The Munich International School is in Starnberg which is a town southwest of Martinsried/Munich , reachable in ca. 25 min. by public transport (Bus and S-Bahn/schoolbus or ca. 15 min. by car).
Surrounded by woodland and in close proximity to the famous 5-lake area you can also enjoy the Bavarian landscape and a breath of fresh air. The bavarian skiing areas are reachable by car in 35 min. (Garmisch-Partenkirchen). But there are also excellent train/bus connections connecting to the alps and Austria/Italy.
The rent is 1800 Euros per month, including heating, water and electricity, excluding telephone/DSL/CableTV. The deposit is one months rent.
We are more than happy to provide you with more details should you be interested. Please send us an email to "house" at the above URL adress: "scipic.com". Or call us at +49-151-21067820 from outside of - or 0151-21067820 within Germany.
You can click on the images in order to getter a kind of slide show. We were told though by happy guests that our images do not very well reflect how nice the place actually is and send us better ones, which are attached below.
Pictures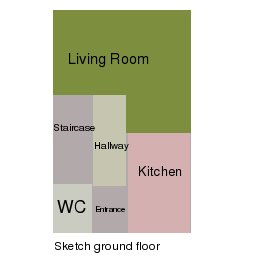 Hallway and staircase are one room, everything else are seperate rooms with doors. In the first floor, the two children rooms/small bedrooms are on top of the kitchen and the short part of the living room, the master bedroom is on top of the long part of the living room. The bathroom is on top of WC and Entrance. The roof level has one big room (attic) on top of the living room and one very big closet on top of the rest. In the basement there is the laundry below the kitchen and three storage rooms.
entrance, hallway and guest toilet(WC):
kitchen:
living room and garden:
upper floor bedrooms and bathroom:
attic:
basement:
Thanks to happy guests from the US, here some better images:
entryway: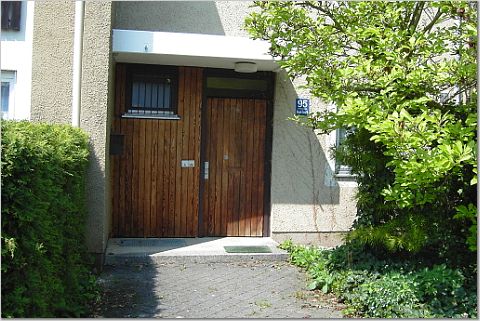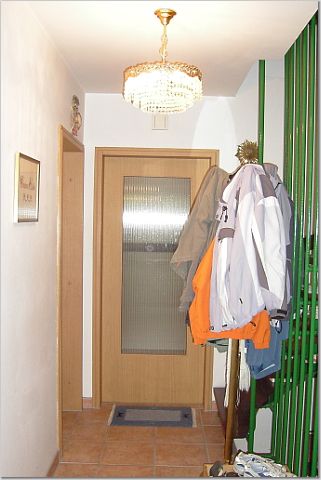 kitchen: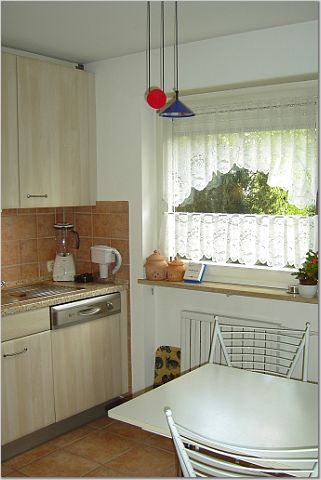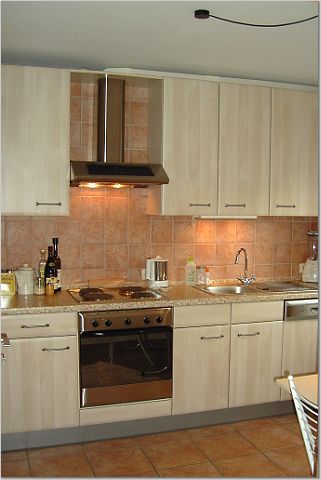 living and dining room (musical instruments belonged to guests, furniture of living room is now a bit different, please see above):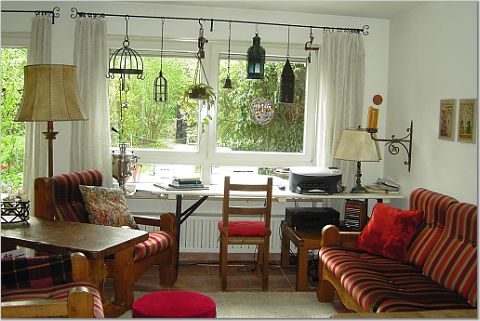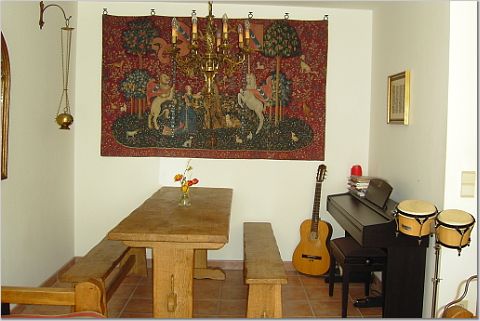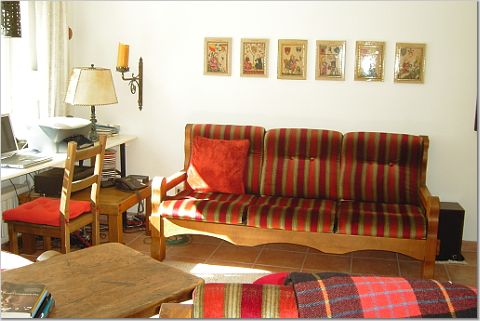 master bedroom: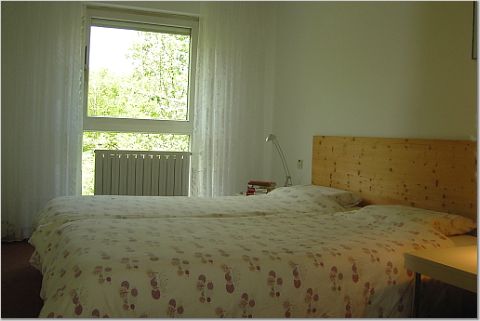 bathroom, bedroom 1 and bedroom 2: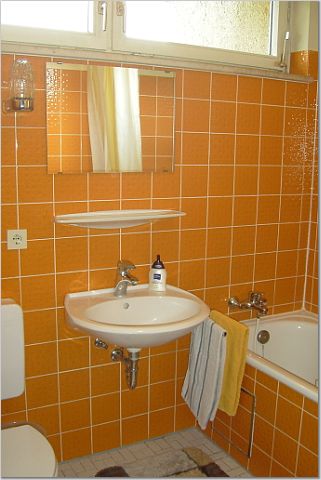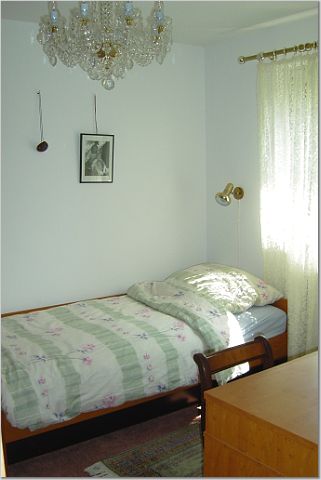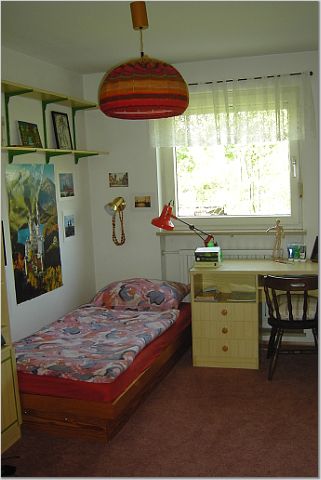 hobby room and attic: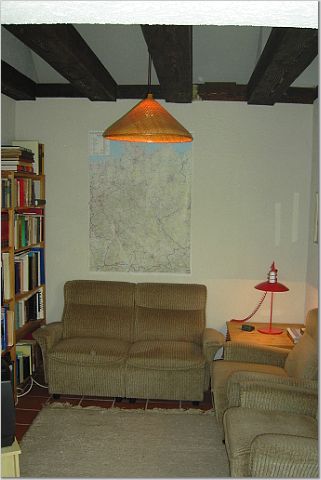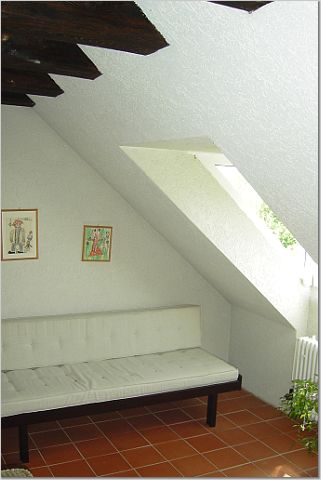 garden: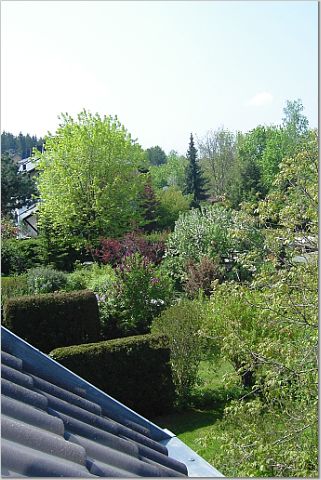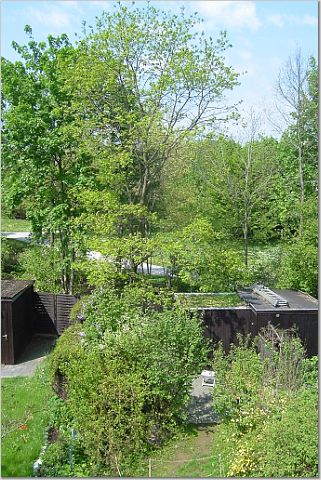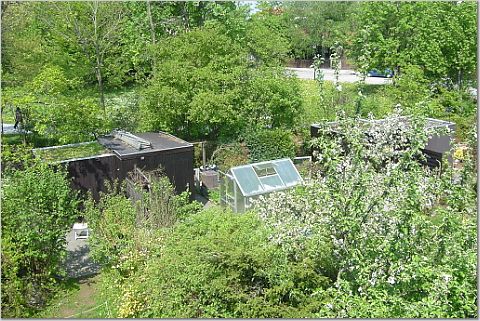 patio: